Photo: Yvon Ouellet
David Diamond, BFA D.Litt. (Hon.)
Artistic and Managing Director/Joker
E-mail: david@theatreforliving.com
David is a 1975 BFA graduate of the University of Alberta. He was a founding member of Vancouver's Theatre for Living (Headlines Theatre) (1981) and has been Artistic Director since 1984.
David has directed over 500 community-specific projects on issues such as racism, civic engagement, violence, addiction, street youth, intergenerational conflict and homelessness. He has worked throughout Canada, the USA and Europe, as well as in Namibia, New Zealand, Australia, Brazil, Rwanda, Palestine and Singapore, and has pioneered the development of live, interactive Forum television and web casting.
He is the originator of Theatre for Living, a merging of Augusto Boal's Theatre of the Oppressed, and his own life-long interest in systems theory. Theatre for Living recognizes communities are complexly integrated living organisms and invites them to engage in constructive social change, moving from various forms of violence to respectful engagement.
David is the recipient of numerous awards, including the City of Vancouver's Cultural Harmony Award, the Jessie Richardson Award for Innovation in Theatre, an Honorary Doctorate from the University of the Fraser Valley and the Otto René Castillo Award for Political Theatre. In 2010 he was honoured to travel with the Governor General of Canada (Michaëlle Jean) as a Canadian Delegate in Africa. He is also a recipient of the Vancouver 2012 Mayor's Arts Award for Community Engaged Art.
Under David's Artistic Direction Theatre for Living (Headlines Theatre) has been honoured with numerous Jessie Richardson award nominations as well as two awards for "Outstanding Production" and two for "Significant Artistic Achievement"; the Red Cross Power of Humanity Award; the Canadian Healthy Environment Award; MOSAIC's Human Rights Award; and numerous recognitions for innovation in live, interactive community television broadcasting.
David is the author of Theatre for Living: the art and science of community-based dialogue, which has a foreword by renowned systems theorist, Fritjof Capra and was honored with the American Alliance of Theatre and Education 2008 Distinguished Book Award. In 2012 the book was published in German by Ibidem under the title Theater zum Leben and is also currently being translated into Spanish.
Dafne Blanco
Outreach Coordinator and Webmaster
E-mail: outreach@theatreforliving.com
Dafne was Theatre for Living (Headlines Theatre) Outreach Coordinator from 2004 to 2010 and from 2012 to 2013. She has been involved with several grassroots organizations and art groups since she arrived in Vancouver from Mexico in 1996, working on the areas of Human Rights, First Nations struggles, Racism, Globalization, and other social issues. She also worked as an advocate for agriculture migrant rights, while freelancing as a web designer.
Dafne has completed a degree in Graphic Design in the National Autonomous University of Mexico. Painting and ceramics creation has been a great passion of hers and she is hoping to focus on her artistic creation if she is able to garner the blessings of the Visual Arts deities.
Photo: Dafne and Outreach Assistant, Acerina

Liza Lindgren
Returning Outreach Coordinator
E-mail: tour@theatreforliving.com
Liza is a filmmaker using art as a tool for dialogue (mainly in Sweden and Canada). Their* documentary films have been screened and used as a base for discussion in several different countries, touching on subjects such as gender, feminism, and squatters rights, as well as looking at anti-racism, allyship and accessibility work in Do-It-Yourself organizing. With a background in theatre (including Theatre of the Oppressed), film and gender studies, they have organized and facilitated several workshops on "Master Suppression Techniques and its Counter Strategies". These workshops try to open up a discussion about the subtle oppression techniques that are displayed in interactions between people.
When they are not doing outreach work for TfL, they like to ferment things (beverages), learning about (vegan) food preservation, creating short queer zombie films and music videos with friends, and reading various blogs by sweet rad folks.
* Liza currently identifies as a queer gender-queer feminist. Their preferred pronouns are 'they, them, theirs'.
André J. Prevost
Office / Production Manager
E-mail: admin@theatreforliving.com
After completing the Theatre Arts program at the Banff Centre in 1978, Andre Prevost began his career in stage management with the Vancouver Opera. In 1981 he accepted a teaching post in Art & Drama at the High School level until 1987 when he accepted the combined post of Stage Manager and Director of Production with the Edmonton Opera, with the Manitoba Opera in 1994, and as Director of Production for the Vancouver Opera in 2004.

Upon his return to Winnipeg in 2006, he freelanced with Rainbow Stage, Winnipeg Jewish Theatre, and the Ruth Cansfield Dancers and maintained his work in the Visual Arts in iconography. In 2008, he became the Administrative Director for the Manitoba Arts Network in Winnipeg.

His career has also included stage managing with the Vancouver Playhouse, Opera Saskatchewan, and Opera Pacific (California), producing the first annual Alberta Emerald Awards in 1995, and also works in the visual arts with a focus on Iconography.

Now Andre is back on the west coast and the new Office/Production Manager for Theatre for Living (Headlines Theatre)!
Susan Shank Day
Financial Administrator
E-mail: finance@theatreforliving.com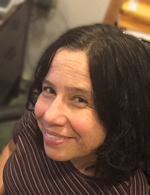 Susan Shank Day has extensive financial and administrative experience in the arts. For a decade Susan was the administrator for Touchstone Theatre Society. She is also the contract coordinator for Gateway Theatre and has done bookkeeping for The Firehall Arts Centre - but her favorite job is being the mom of her two children! Susan has a BA from SFU with a concentration in Theatre. Over the years she has had experience as an actor, writer, teacher, programmer and producer. Susan is delighted to be working with Theatre for Living (Headlines Theatre).
Mallory Gallant
Publicist
E-mail: publicist@theatreforliving.com
Mallory is a graduate of the Theatre Performance program at Mount Royal University in Calgary. She has since worked as an actress, drama facilitator, arts programmer, and playwright. She most recently co-wrote and co-produced Grey Matter for the Edmonton and Vancouver Fringe Festivals. Since moving to Vancouver in 2011 she completed her certification in Documentary Production from Langara College and the Advanced Certification in Arts and Entertainment Management from Capilano University. She was the Outreach Coordinator for the Parade of Lost Souls 2012 and did Media Relations and Volunteer Coordination for the Illuminares Lantern Festival 2013, both for the Public Dreams Society. For the Theatre for Living production of maladjusted she acted as their Publicity/Outreach Assistant. She is also currently directing a documentary film for the Public Dreams Society called The Language of Rhythm. She is proud to be a part of the gifted team at Theatre for Living and is pleased to be taking on the position of Publicist for the 2013 tour of Corporations In Our Heads as of July 2, 2013.
Theatre for Living (Headlines Theatre) Board of Directors
Tad Young, President
Kirk Tougas, Vice- President
Nicole McRae, Sec/Tres.
William Roxborough, Past President
Darlene Marzari, member
Kamal Sharma, member
Kevin Millsip, member
To contact any Board Member:
E-mail: info@theatreforliving.com

OR

write to:
Theatre for Living (Headlines Theatre)
323-350 East 2nd Avenue
Vancouver, BC
Canada
V5T 4R8